The sleepy little towns that have evolved and grown.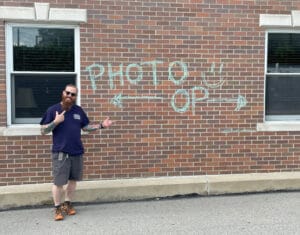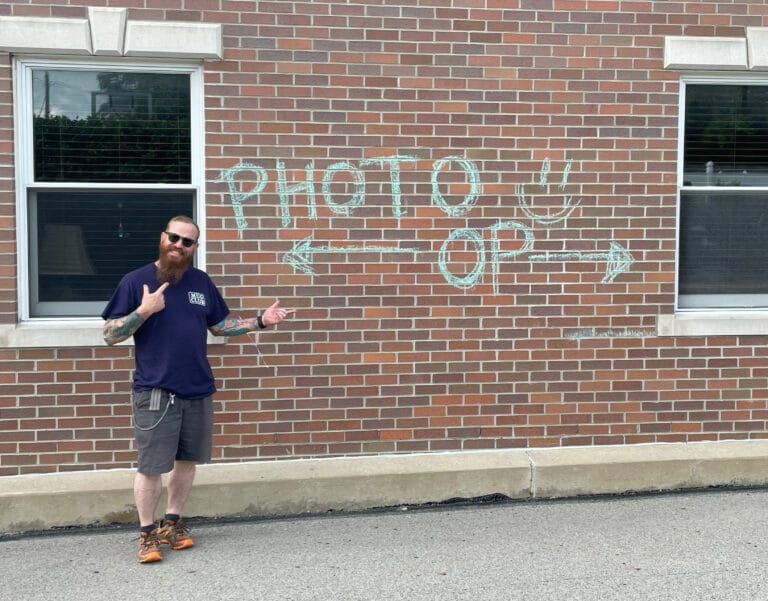 Growing up in the county just north of Zelienople and Harmony, life was simple and a slower pace.   Zelienople and Harmony were sleepy and safe little towns.   The Norman Rockwell towns that you would see in 1950's television shows.  Both towns have undergone a massive revitalization and growth over the last decade.  They are both now a pretty cool destination.
Harmony, PA is known for its history, festivals, The Harmony Inn, The Center of Harmony and its events.  Zelienople has a strong business community and has been putting on Thursday Open Air Markets that are drawing people from all over.    These two sister towns, joined by Division Street, have a long, rich and intertwined history.
My family has had businesses in both towns.  My first business, an insurance agency, started in 1995.  I opened the Center Of Harmony in 2012.   Most of my professional and young life has been rooted in these Western Pennsylvania towns.  The running joke is that everyone calls me the "Mayor of Harmony" because of my involvement and activism.  You can read more about the town and my history in my previous blog.
Zelienople's Thursday Open Air Market
This recurring event started last year, amid the pandemic and with social distance requirements.   It was a success in spite of the restrictions and limitations.    It started back up two weeks ago and I missed both nights.   It was important to experience it one more time.   After an early dinner at the Harmony Inn with my friends Christian, TJ and my son Christian, TJ and I headed up to Main Street.
The weather was perfect, sunny and comfortable.   And the people were out and about!   The streets were lined and packed.  Vendors where selling their wares and the restaurants were hopping.
Curio Cool:  As cool as it's name suggests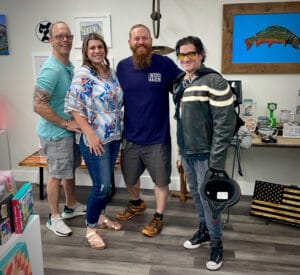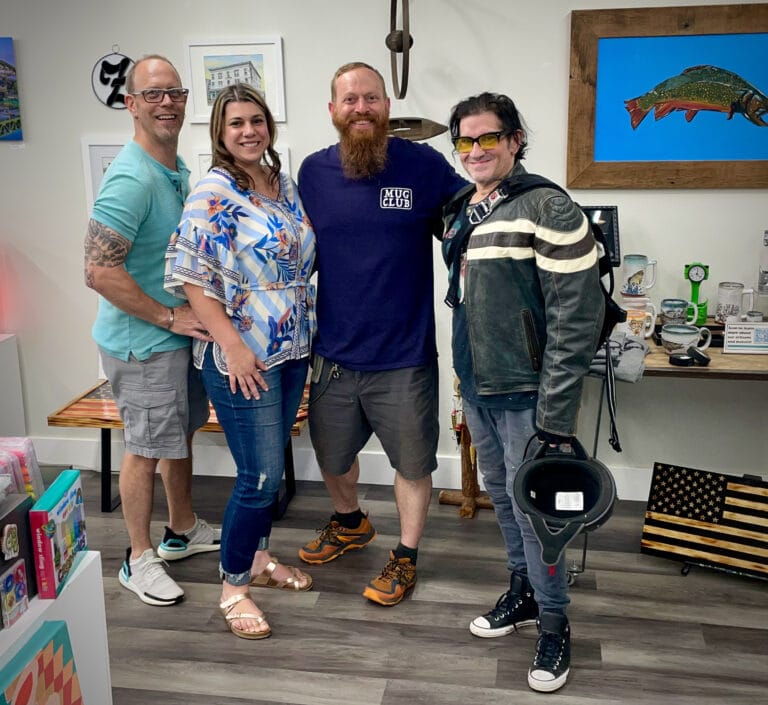 Jason and Lauren Schorr are the founders of Curio Cool, they are both art teachers and are generally just rad humans.  Their shop is a mixture of an art gallery and eclectic collectible toy store.  They also offer a series of classes and workshops in many different media and techniques. Even as a relatively skillful artist. I have enjoyed the classes they put on. TJ and I decided to stop in and see what was happening. Both Jason and Lauren were in and it was great to see them. They asked about the upcoming trip and what my plans were and it was nice to catch up.
While we were chatting, my friend Quint showed up. Quint and I were friends growing up down the road from one another in the country. His father was also one of my art teachers in a very big influence on me. His mother, was a biology teacher and our families have a long connected history.    It was a moment of where a few generations of artists, connected by Seneca Valley High School, reconnected.    Even the art in the gallery had relationship to the high school. I noticed a beautiful picture of my building, The Center Of Harmony. It was done by a local artist named Laura Stewart.  It was a good first stop, on what may have been an impromptu farewell evening.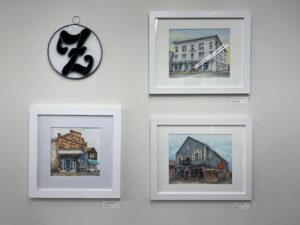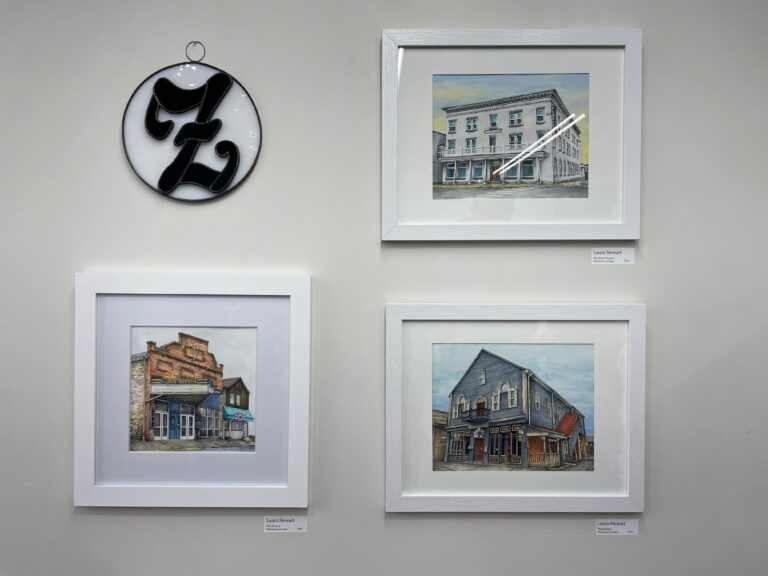 General Shu's :  Eggrolls, beers and mojito seltzers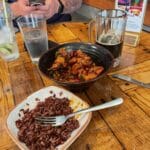 General Shu's, Chinese Food and Beer was the next stop.  It is always a good decision.   While "gourmet" is not often used in the same sentences as "chinese food", this place is an exception.    That is due to the chef, Patrick.   He education is in molecular biology, and his passion is in food.    The two come together in an exquisite combination.   General Shu's is the child of Shu Brew, the main brewery and restaurant.    Shu Brew is phenomenal as well.    Their Tuesday night Detroit Style Pizzas are a delicious indulgence.     The "Steve-O-Jito" selzer was the perfect refreshment for the evening.   So I had two for good measure.
A New Home:  Has it already manifested?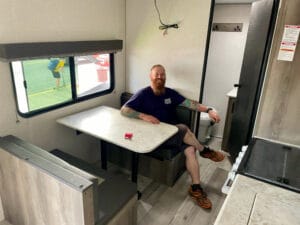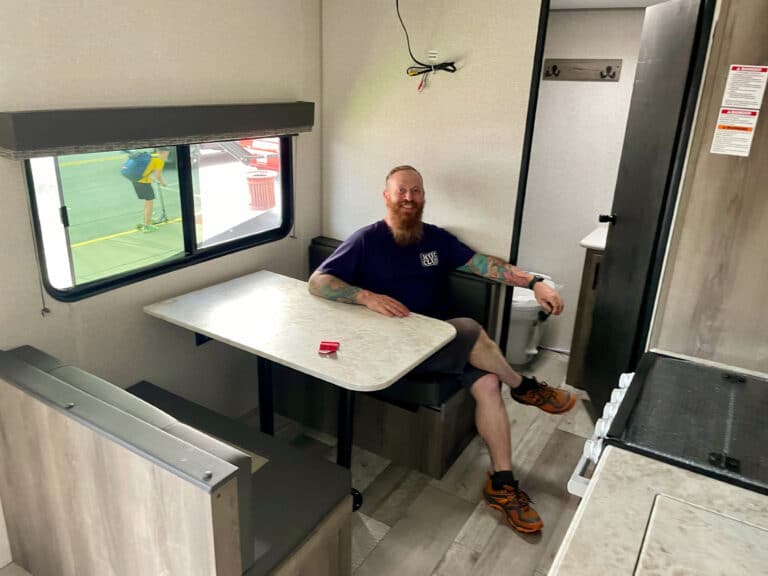 The Harmony Fire District 22 has been raffling great prizes to raise funds for their new station.   It is how I got the Mavic Mini Drone that will be coming along on the trip.   The current raffle is for a 24′ pull behind camper.   It was being showcased on Main Street tonight.   There were only 1,000 tickets available.  I had purchased 2 previously, but thought a few more couldn't hurt.   By the time we arrived, there were only 4 tickets left.   So….  I got the last tickets.
Thought of having a camper had a lot of appeal.   Not for the first trip around the country, but it would solve the dilemma of having to choose one specific location.     With a fully loaded camper, I could park and stay in any location, for any amount of time.   Like a turtle, I'd carry my home with me.    It's a long shot, but this experience has a way of providing and surprising.   Could the next blog be about my new camper?   We will know on Memorial Day at 7pm!
A Gentle Farewell
The evening was filled with congratulations and well wishes from friends that have been following my process.   That was sweet and I received it deeply.  It was a nice way to round out the week and the time here.    I am grateful for the community in which I grew up, started a family and became a part of.     Thank you,  Best Wishes,  Farewell for Now.