The Heron Farm and Events Center
It is hard to know where to start when talking about  "The Heron".   The Heron is so many times and I have had some incredible experiences there.   In the 1960's, it was opened as a campground called Newt Spinks and has evolved and grown into an organic farm, farmstore, campground & AirBnB, a concert venue, mushroom producers and more.   You can read the full story on their about us page.  Julie obtained the property in the 1990's.  She married Steve Rockcastle in 2005, and they have continued to develop and invite people enjoy, learn about and experience this magical land.
Music, Festivals and My Introduction To The Land
The Heron Farm and Events Center has been the home of the Great Blue Heron Music Festival since 1992.   It is well known and well attended.   2020 and Covid forced the GBH to be cancelled.  This year they shifted to the "The HeronSummer Series", 19 weekends of music, rather than 4 days of a big festival.
Jim Donovan's Great Rhythm Revival has been held their for the last decade.  Jim was the drummer for Rusted Root and now leads  Jim Donovan and The Sun King Warriors.   I meet Jim years ago when he held concerts, drumming workshops and breathwork seminars at my venue, The Center of Harmony.   Over the years, I have been fortunate to become friends with him and the band members.  They are a fantastic group of humans doing some really good work for people and the planet.
With all of the wellness workshops, drum circles and concerts at The Center of Harmony,  I grew and became a part of this shared community.   Everyone would tell me that I needed to get to the Great Rhythm Revival.  In 2019, I finally got to my first Revival, and it was absolutely life changing!   4 days of community, drumming, yoga, meditation, workshops, camping and connection.
This also where I met Julie and Steve Rockcastle.
A New Connection, Partnership & Professional Relationship
The last day for the Great Rhythm Revival, Julie made an announcement that the adjoining property was going up for auction in less than a week.  This property had been used for parking the Great Blue Heron, and they were concerned that, without that access.   Over the next 6 days, a group of us were able to organize and purchase that property.   Currently, the 4 bedroom farm house is being made in to an AirBnB and options for that land's use are under consideration.
I also planted the seed with Julie know that I work on websites and marketing.   And that has blossomed into a wonderful professional relationship with the Heron, as well.  This year, I was able to help redesign their website and create a marketing strategy, through my company, Great Things LLC.
The Magic of The Heron and It's Land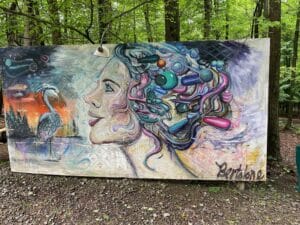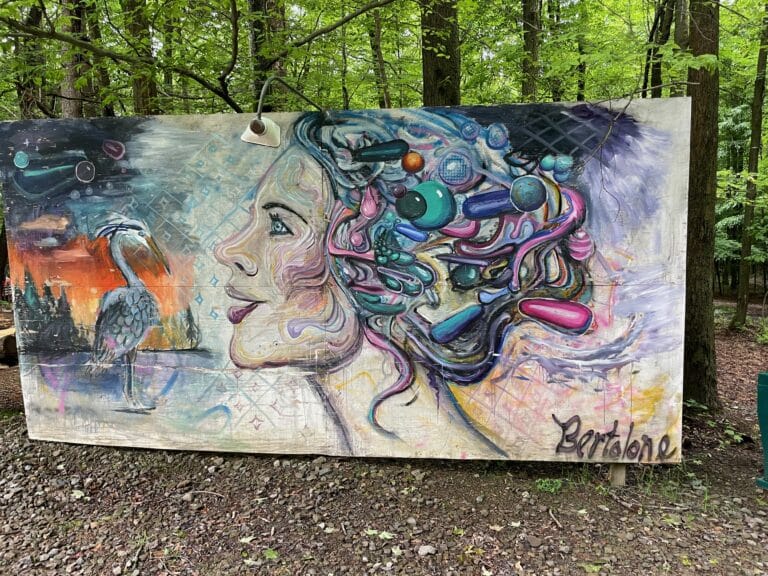 The campsites and woods are a magical, whimsical place.   Art and hidden treasures are scattered throughout.     The amenities with the bathhouse and their kitchen make staying there a joyous experience.    Being two hours from Harmony, it is easy to get to and enjoy.      Since I was passing through, I needed to stop in and say hello.    I spent about an hour connecting and chatting.
About The Heron Farm and Events Center
Learn more about The Heron on there website, TheHeron.org, and visit the Summer Series page for all of the upcoming music and events.