Livonia New York wasn't a part of the original plan
When I first started dreaming up this trip, the plan was to head south and then west. Starting north to New York was definitely not a part of the plan. However one of the reasons I was going south was to visit my friend Grace. Grace lives outside of Asheville North Carolina.  I love that area, especially Pisgah National Forest.   Grace is a fellow traveler and was not going to be home during the time I had planned to come through. Instead she was visiting her mother in upstate New York at their lake house. So I change plans. And this was ultimately a great decision. Also an exercise in learning flexibility and staying in the flow.  This worked out as I needed to be back in PA for North Country Brewery's annual Mug Club Party.   You can read more about that in the next blog.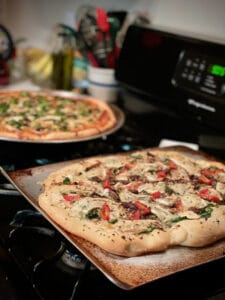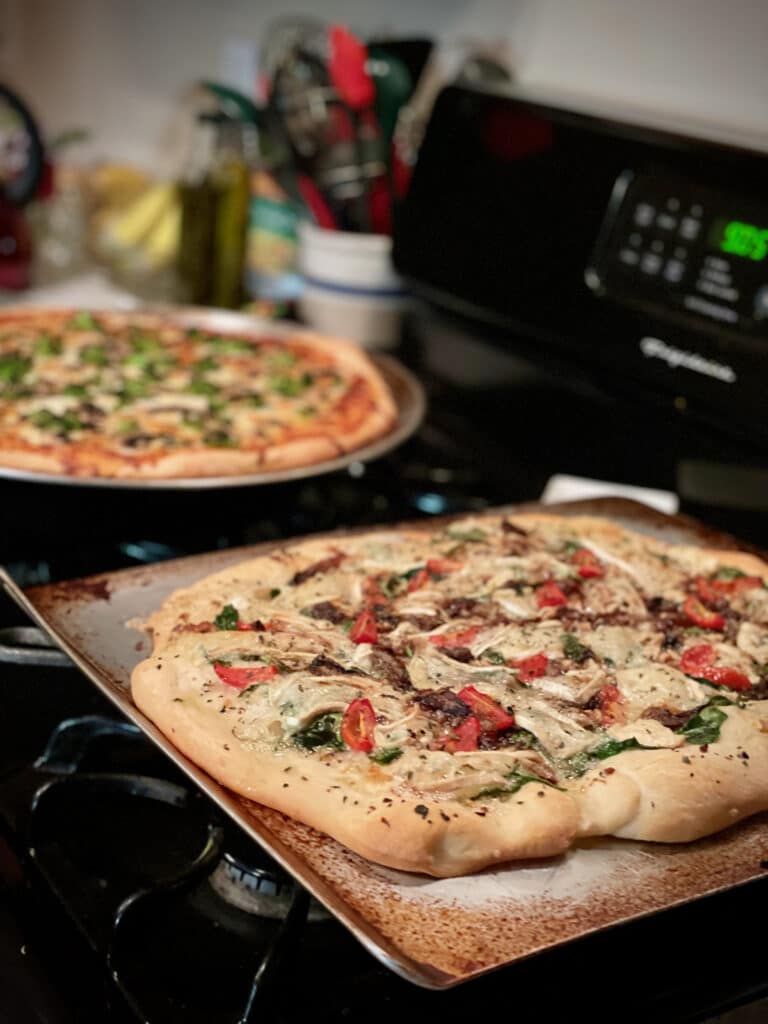 Located on Conesus Lake in Livonia New York, I had a few days to explore the area.  Upon arrival, I met Grace's mom, Kim, and her sister, Becky, both lovely people.  That first afternoon was spent with her nephew and niece, talking a small toddler sized walk and just enjoying the view and conversation.
That first night, Grace and I made pizzas, One Veggie and One with Arugla, Carmelized Onions, Tomatoes and a balsamic drizzle.   They were delicious, and I love with people let me into their kitchen!
Grace & Our Story of Connection
Grace and I first met through our mutual friend, Cara.  Cara and I have known each other for about a decade, when she opened her massage practice in the Healing House at The Center of Harmony.  We became good friends and have kept in touch over the years. Cara needed a ride down to North Carolina to stay with Grace. And I'm always open for a road trip. So we hit the road and went to North Carolina.
Grace created and owns the Moonbeam Bungalows, two very cool, eco-chic AirBnB rentals in Horseshoe, NC.  Over the next several days, I got to know and really appreciate Grace.   It was a week filled with hiking, exploration, breweries, great food, laughter and bonfires.   It was the start of a very special connection.
I really respected and appreciated how Grace had created her rentals and was able to travel extensively. That was something that was very near and dear to my heart. Witnessing how and what she had done, gave me inspiration to make changes with my own rental property.  It was one of those times in life where you find a kindred spirit that feels like you've known each other for ages.
The Moonbeam Bungalows
One thing I love doing is helping people and their businesses grow. Grace's website was slightly outdated but still working for. I offered to help re-design it and shot some video and photography of the bungalows.  I just loved what she had done and it was so unique I wanted to help and get the word out.   Here is the website and the videos of the Bungalows.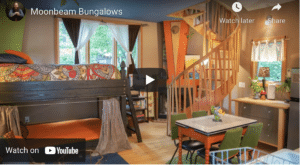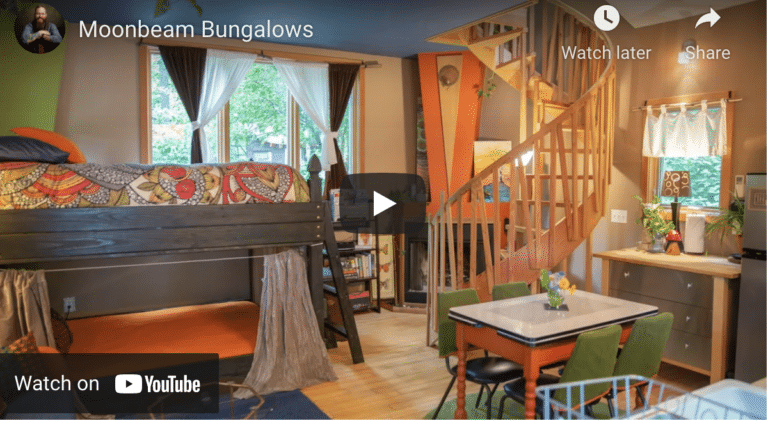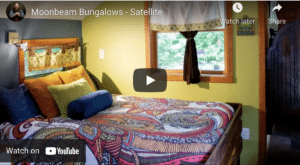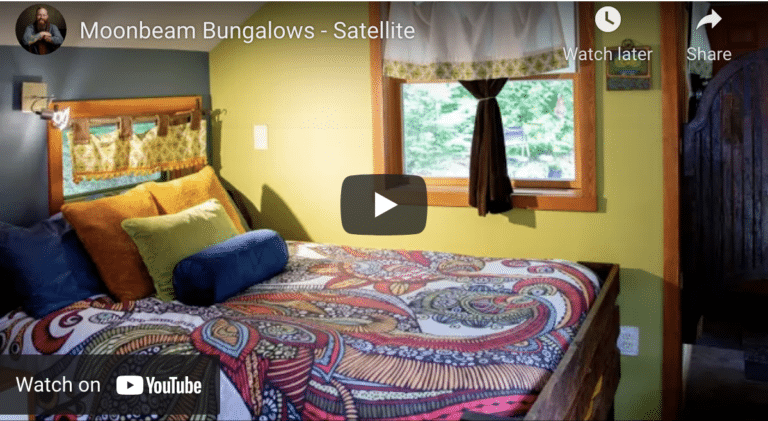 The Lakehouse, Good Eats and Boating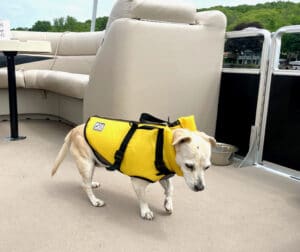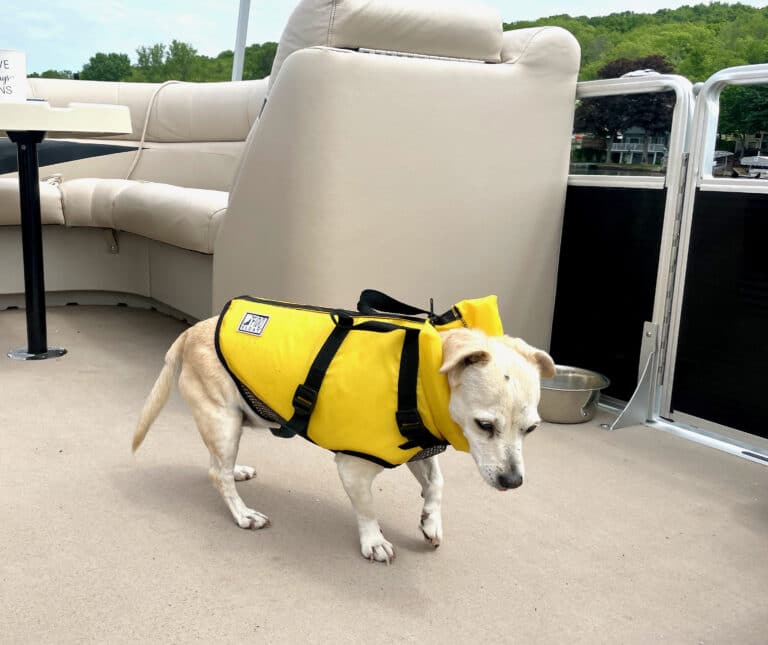 The weather partially cooperated the next day.  It was cold and damp in the morning, but the sun came out for an afternoon boat tour of Conesus Lake.    One of the Finger Lakes, Conesus Lake is surrounded by several small towns.   This is "Lake Life" for sure.   Beautiful houses and docks dotted the shoreline.   Grace's travel partner is her 17 year old rescue dog Bella, AKA Boo Boo.    Bella is a pretty awesome lady.  Chill, independant and going strong, at 119 in dog years.   She took a quick dip in the lake to cool off, and that looked appealing.
It also a good reminder to wear sunscreen, as my head and neck almost got burnt.  That is par for the course, being a ginger or at least having ginger tendencies.     The skies darkened on the way back to the dock.   Fortunately, we beat the rain and had some time to relax.
Exploring Livonia and Keeping My Morning Walks Going
For the last 8-10 months, I have been starting my days with a 5 mile walk.   This is something I wanted to make an integral part of this adventure.    Since I am up at 5:30 am every morning, it is a good time to greet the sunrise and see the area.   There was an easy 4 mile walk that took me into Lakeville.    Little Lake Brewing was open at 6am and having a good coffee is an important way to start the walk.  The coffee as darn good and the owner was a wealth of information.   If you are coming through, stop in.     I didn't sample his beers,  it was 6am after all!
Livonia is the picture of an upstate NY lake town.   You can feel the connection between the people and the water.   Everything revolves around the lake.   While it is a beautiful town,  I don't think the winters would be for me.
Later that day,  we heading out to Hemlock Lake for a hike.   Hemlock Lake is a part of the watershed for the City of Rochester.   This means that use is very restricted, consequently also very private.   Walking with a "Senior" dog is a different type of stroll.   Slow and almost steady, it did provide more space for viewing the land and great conversation.    Along the way, there was a beautiful Eastern Milksnake.   The shoreline was very clean, but a few Big Gulp cups were littered about.   We collected what trash we could on the way back, a habit I developed on my morning walks.
Good Food & Scintillating Conversation</h3>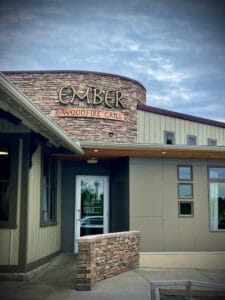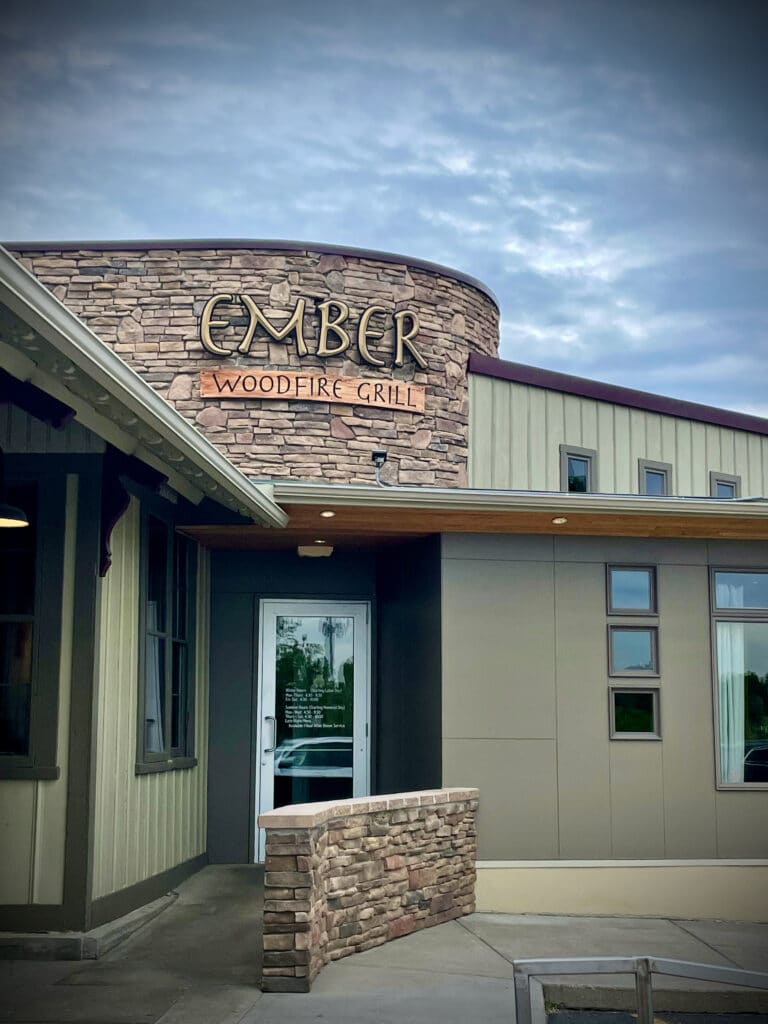 Grace and I decided to go out for a nice dinner at Ember Woodfired Grill.   Ember is a converted Train station and had a unique and inviting atmosphere.   It was absolutely packed and we had a short 20 minute wait.   It was worth the wait.  Here were our choices.
SESAME SEARED WILD CAUGHT AHI TUNA (Rare Nacho Style) Seasoned won tons | wakami | ginger soy glaze | wasabi tartar | sriracha | chili lime aioli | sesame seeds | beets & carrots.
BOARD CUT PASTA VEGETABLE BOLOGNESE Housemade semolina pasta noodles | long cooked beet and lentil ragu | ricotta cheese | cured tomatoes
The meal was superb and the conversation was even better.    When we had finished our dinner it was 9:15 and the restaurant was empty.   The staff was putting up chairs.   We hadn't even noticed that the anyone had left.   Yes, it was that kind of night.
With bellies full and our my spirits high, it was back to the lake house.   The weather didn't look good for the next day, but we trusted that things would unfold exactly how they needed too.     They always do when you are in the flow with friend.
Tomorrow was a new adventure.